ED - Erectile dysfunction
RCT - Randomized controlled trial
---
In studies, erectile dysfunction prevalence has varied widely, depending on the population surveyed and the definition used. The table below shows typical ranges reported in surverys from around the world.
| Age (years) | % of population reporting ED |
| --- | --- |
| < 40 | 1 - 10% |
| 40 - 49 | 2 - 15% |
| 50 - 59 | 6 - 35% |
| 60 - 69 | 20 - 40% |
| ≥ 70 | 50 - 100% |
---
PHYSIOLOGY OF AN ERECTION
The corpora cavernosa of the penis contains a network of smooth muscle cells, endothelial cells, and sinusoid cavities
An erection begins when endothelial cells are stimulated, causing them to release nitric oxide, which relaxes smooth muscle cells
Smooth muscle cell relaxation allows the sinusoids to dilate and fill with blood
Engorged sinusoids compress veins, inhibiting blood flow out of the penis [1,2,3]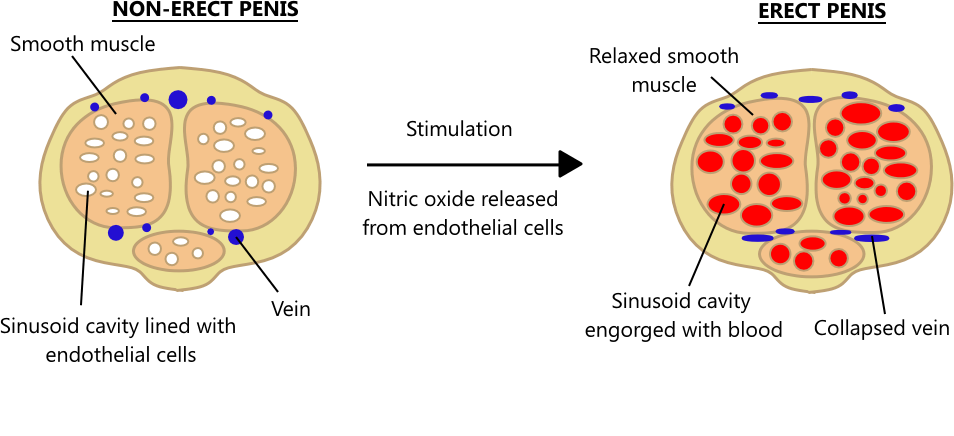 ---
Overview

While it may seem like a simple function, the formation of an erection is actually quite complex, relying on the interplay of psychologic, neurologic, endocrinologic, and vascular processes. Issues with one or a combination of these systems can cause ED.
Risk factors for ED grouped by etiology are presented in the table below
NEUROLOGICAL
Causes
Risk factors
Central nervous system dysfunction

Multiple sclerosis
Spinal cord injury
Stroke
Parkinson disease
Alzheimer's

Peripheral nervous system dysfunction

Diabetic neuropathy
Peripheral neuropathy
History of pelvic irradiation or surgery
Prostatectomy - occurs in 25 - 75% of men after surgery

VASCULAR
Causes
Risk factors
Endothelial dysfunction (decreased nitric oxide release)

Advancing age
Atherosclerosis
High cholesterol
Diabetes
Hypertension
Obesity
Sedentary lifestyle
Benign prostatic hypertrophy
Smoking

PSYCHOLOGICAL
Causes
Risk factors
Past issues

History of trauma
History of sexual abuse
Strict upbringing
Guilt

Current issues

Depression
Anxiety
Relationship problems
Major life event - childbirth, job loss, etc.

ENDOCRINOLOGICAL

Hypogonadism (low testosterone)
Hyperprolactinemia
Hyper- and hypocortisolism (Cushing's disease, Addison's disease)
Hypothyroidism
Diabetes

OTHER

Peyronie's disease
Hypospadias, epispadias
Cavernous fibrosis
Alcohol abuse
Illicit drug use (ex. cocaine, THC, amphetamines)
---
MEDICATIONS ASSOCIATED WITH ERECTILE DYSFUNCTION
A number of medications have been associated with erectile dysfunction
Evidence for a causal relationship is weak in some cases. For example, blood pressure medications have been associated with erectile dysfunction, but they are mostly used in individuals who have other risk factors, so their overall contribution to ED is difficult to discern.
Some medications have a definitive causal relationship (ex. antidepressants)
MEDICATIONS ASSOCIATED WITH ED
Drug class
Medication examples
Antiandrogens

Finasteride (Proscar®, Propecia®)
Flutamide
GnRH agonists - leuprorelin, triptorelin, goserelin
Ketoconazole
Spironolactone
H2 blockers (famotidine, cimetidine, etc.)

Anticholinergic medications
Antidepressants

SSRIs (fluoxetine, paroxetine, etc.)
SNRIs (venlafaxine, etc.)
Tricyclic (amitriptyline, etc.)

Blood pressure medications
Butyrophenones

Haloperidol (Haldol®)
Droperidol
Domperidone

Cholesterol
medications
Cytotoxic
medications
Heart medications

Amiodarone (Cordarone®)
Digoxin
Disopyramide

Interferon
Phenothiazines

Promethazine
Prochlorperazine
Thioridazine

Steroids
---
Guidelines from the American Urological Association and the European Association of Urology recommend that labs and diagnostic studies be patient-specific and guided by physical exam and history findings
The table below lists some specific findings and their possible associations
Finding
Considerations
Patient reports rigid erections in the morning, nighttime, or during sexual thoughts
ED has sudden onset or is intermittent
Patient reports lower urinary tract symptoms

Consider BPH
Examine prostate
PSA when indicated

Risk factors for vascular disease

Check lipid profile
Screen for diabetes
Measure blood pressure

Hypothyroid symptoms
Low testosterone symptoms
---
Testosterone levels and ED symptoms

Testosterone plays an important role in erectile function. That being said, it appears that testosterone-related erectile dysfunction only occurs at very low levels.
A European study that included over 2800 men measured the correlation between testosterone levels and self-reported sexual function. The study found that sexual function improved with increasing testosterone only in the range of 0 - 230 ng/dl. The effect plateaued at 230 ng/dl, and no improvement was seen at higher levels. [PMID 21849522]
Testosterone replacement and ED symptoms

A number of small studies have evaluated the effect of testosterone replacement on ED symptoms. Results from these studies have been inconsistent across a wide range of patient populations (see testosterone and sexual function studies). In studies that only included patients with low testosterone levels, testosterone replacement had no clear effect on ED symptoms.
Studies that evaluated the addition of testosterone therapy to phosphodiesterase inhibitors (e.g. Viagra, Cialis) have also found no clear benefit of adding testosterone to these drugs [7,8,9]
---
Lifestyle modification

Weight loss and exercise

A randomized, controlled trial published in 2004 clearly showed that weight loss and exercise improve ED symptoms. In the same study, weight loss and exercise were also shown to improve the physiologic processes involved in erection formation (response to nitric oxide). See ED weight loss study below.
Overweight, sedentary patients with ED should be encouraged to exercise and lose weight to improve their ED symptoms

Smoking cessation

Smoking cessation has been associated with improved ED symptoms and a lower incidence of ED
Smokers should be encouraged to quit
Phosphodiesterase type 5 inhibitors (PDE-5I)

Phosphodiesterase type 5 inhibitors (ex. Viagra®, Cialis®) have become the overwhelming preferred treatment for ED
In clinical trials, PDE-5Is improve erectile function in ≥ 50% of patients when compared to placebo
PDE-5Is have been shown to be effective in treating ED across all types of etiologies including vascular, neurologic, psychogenic, s/p prostatectomy, and

medication-induced

All PDE-5Is appear to be equally effective, and no meaningful head-to-head trials have been performed [1,3]
See erectile dysfunction medications for a review of PDE-5Is
Penile injections and suppositories

Prior to PDE-5Is, alprostadil in the form of a penile injection (Caverject®) or penile urethral suppository (Muse®) was the primary medication used to treat ED
Alprostadil has largely been replaced by PDE-5Is, but may still be used in patient who do not respond to PDE-5Is
Alprostadil penile injections are effective in > 70% of patients. Alprostadil suppositories are effective in 30 - 66% of patients.
The inconvenience of these methods hinder their acceptance with patients [1,3]
See erectile dysfunction medications for a review of penile injections and suppositories
Penile implants

Penile implants (also called penile prostheses) are available for the treatment of ED
Some implants are semi-rigid, and some are inflatable with a scrotal pump
While these treatments are typically reserved as a last resort, patient satisfaction rates are high (70 - 90%) [1,3]
Other

Vacuum devices - vacuum devices suck blood into the penis and then a constrictor ring is placed at the base of the penis to retain the blood. Patient satisfaction with these devices varies widely (27 - 94%). Side effects include pain, inability to ejaculate, bruising, and numbness. Discontinuation rates are high (≥ 50%). [1,3]
Shockwave therapy - low intensity extracorporeal shock wave therapy has been shown to be effective in some small studies. This therapy is not widely available. [PMID 22425129]



---
ERECTILE DYSFUNCTION STUDIES
A trial in the JAMA enrolled 110 obese men with erectile dysfunction
Main inclusion criteria
BMI ≥ 30
Age 35 - 55 years
ED defined as score ≤ 21 on IIEF scale
Main exclusion criteria
Diabetes or glucose intolerance
Hypertension
Cardiovascular disease
Prostate disease
Neuropathy
Psychiatric problems
Impaired renal function
Baseline characteristics
Average age 43 years
Average weight - 224 lbs (102 kg)
Average BMI - 37
Average IIEF score - 14
Randomized treatment groups
Group 1 (55 patients) - Intensive lifestyle therapy (detailed diet and exercise program)
Group 2 (55 patients) - Given general advice about weight loss (control group)
The intensive lifestyle therapy group met with a dietician and trainer monthly during the first year and bimonthly during the second year
Primary outcome: Erectile function measured with the International Index of Erectile Function (IIEF) scale (the IIEF scale runs from 5 - 25; a score of 17 - 21 indicates mild ED; 12 - 16 mild-to-moderate ED; 8 - 11 moderate ED; 5 - 7 severe ED), levels of cholesterol and triglycerides, circulating levels of interleukin 6, interleukin 8, and C-reactive protein, and endothelial function as assessed by vascular responses to L-arginine (a surrogate marker for penile vascular function)
Results
Duration: 2 years
Outcome

Lifestyle therapy

Control

Comparisons
Average weight loss
33 lbs
4.4 lbs
Diff 13 kg, 95%CI [-18 to -11], p=0.007
Average IIEF score
17
13.6
Diff 3, 95%CI [1.2 to 4.8], p=0.008
IIEF score ≥ 22
17
3
p=0.001

Response to L-arginine was significantly improved in the lifestyle group when compared to the control group (p=0.02)
All other outcomes (except interleukin 8) were significantly better in the lifestyle group
Findings: Lifestyle changes are associated with improvement in sexual function in about one third of obese men with erectile dysfunction at baseline.
---
1 - PMID 23040455 - Lancet review
2 - PMID 18077811 - NEJM review
3 - European Assoc of Urology Guidelines on Male Sexual Dysfunction, 2014
4 - PMID 20388160 - ED prevalence study
5 - PMID 18664536 - Risk factors for low T
6 - PMID 21849522 - Correlation between levels and symptoms
7 - PMID 20525905 - Endocrine Soc male hypogonadism GL 2010
8 - PMID 24978674 - Trial of T replacement in diabetics
9 - PMID 23165659 - Testosterone added to viagra
10 - PMID 20112889