AHA - American Heart Association
COX - Cyclooxygenase enzyme
EC - Enteric coated
ER - Extended release
IR - Immediate release
NSAIDs - Nonsteroidal anti-inflammatory drugs
Nonselective NSAIDs - NSAIDs that are not selective for COX-2
P = Drugs with pediatric dosing
Partially-selective NSAIDs - NSAIDs that are partially selective for COX-2
Selective NSAIDs - NSAIDs that are selective for COX-2
USPSTF - U.S. Preventive Services Task Force
---
---
PARTIALLY-SELECTIVE NSAIDs
---
---
Inflammatory pathway

In a cell, inflammation is first initiated by physical, chemical, mitogenic, and/or other inflammatory stimuli. These stimuli activate the enzyme phospholipase A

2

.
Phospholipase A

2

causes the release of arachidonic acid, a 20-carbon fatty acid, from the cell membrane
The enzyme prostaglandin G/H synthase has cyclooxygenase (COX) and hydroperoxidase (HOX) activity. Prostaglandin G/H synthase converts arachidonic acid to prostaglandin H

2

.
Prostaglandin H

2

is then converted by tissue-specific isomerases into a number of different inflammatory mediators called prostanoids. The type of prostanoid produced depends on the tissue/cell type.
NSAIDs inhibit the cyclooxygenase (COX) component of phospholipase A

2

and block the formation of prostaglandin G

2

. [4]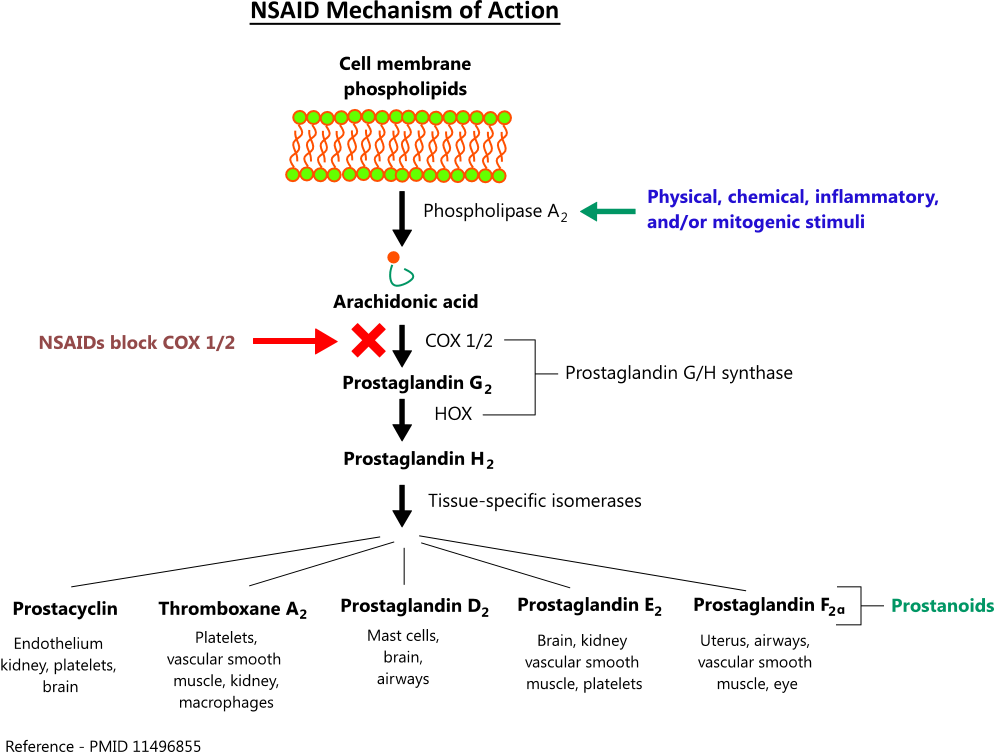 ---
NSAIDs block the enzyme cyclooxygenase (COX). COX has two main subtypes, COX-1 and COX-2.
COX-1 is found in most tissues and is present at all times. COX-2 is typically undetectable in most tissues and is only produced in response to inflammation.
Both COX enzymes play a role in propagating an inflammatory reaction through the production of prostaglandins (see above). COX-1 also plays an important role in gastric mucosal integrity, platelet aggregation, and kidney function.
COX-2 selective inhibitors like celecoxib do not inhibit COX-1, and therefore, are less likely to cause gastric irritation. COX-2 selective inhibitors also do not inhibit platelet aggregation. They do, however, inhibit renal prostaglandins and have similar renal effects as other NSAIDs. COX-2 inhibitors may also carry a higher risk of thromboembolic events when compared to other NSAIDs - see NSAIDs and cardiovascular risk for more.
Some patients with NSAID allergies are allergic to the COX-1 inhibiting effect of NSAIDs. These patients will be allergic to all nonselective NSAIDs, but may tolerate NSAIDs that have COX-2 selectivity (see NSAID allergy below).
In the U.S., Celecoxib (Celebrex®) is the only available COX-2 selective NSAID. Etodolac (Lodine®), meloxicam (Mobic®), piroxicam (Feldene®), and diclofenac (Voltaren®) are all partially selective for COX-2, but will inhibit COX-1 to some degree. Furthermore, there is a large amount of pharmacokinetic variability between patients with partially-selective COX inhibitors which makes their degree of selectivity difficult to quantify. [4,5]
---
There are two basic types of allergic reactions to NSAIDs

Reaction to the mechanism of NSAIDs - blockade of COX-1 enzyme
Reaction to the chemical structure of a class of NSAIDs - IgE-mediated allergic reaction to chemical structure of the drug



Reaction to COX-1 blockade

Some patients are sensitive to the main mechanism of NSAIDs - blockade of the COX-1 enzyme
This syndrome has been given the name "Aspirin-Exacerbated Respiratory Disease" (AERD)

Symptoms of AERD include:

Nasal congestion and runny nose (chronic sinusitis)
Worsening asthma symptoms when taking NSAIDs. Alcohol may also exacerbate asthma.
Itchy, watery, swollen eyes
Nasal polyps that often recur after removal
Occurs in late childhood or adulthood (median age of onset is 30 years)

Aspirin is a strong, irreversible inhibitor of COX-1, so patients with this syndrome will typically react strongly when ingesting aspirin. Other NSAIDs reversibly inhibit COX-1 to different degrees. Reactions to these NSAIDs may vary among affected individuals.
Patients with AERD may tolerate COX-2 selective inhibitors (e.g. celecoxib) and partially-selective COX-2 inhibitors (e.g. meloxicam, etodolac, diclofenac, piroxicam)
AERD has been found to exist in 4 - 11% of patients diagnosed with asthma. Many asthmatics are unaware that that they have the disease and that NSAIDs may be worsening their symptoms.
The condition is diagnosed with an oral "aspirin-challenge test" which involves giving the patient escalating doses of aspirin and measuring their reaction
Aspirin desensitization is the main treatment of AERD, and it should be performed within 3 - 4 weeks of nasal polyp debulking
Aspirin desensitization involves giving escalating doses of aspirin under medical supervision and then continuing daily aspirin for life. Aspirin desentization also induces cross-desentization to all other NSAIDs [2,3,11]



Reaction to individual NSAIDs

Some patients develop IgE-mediated allergic reactions to certain NSAIDs
Reactions of this nature can range from rash and itching to anaphylaxis
These reactions occur because the patient has developed antibodies to the chemical structure of the drug. These reactions are not related to the COX-inhibiting mechanism of NSAIDs.
The main distinguishing feature of this syndrome is that patients will react to one NSAID, but tolerate other NSAIDs without problem. Patients may react to several NSAIDs that are chemically related, and tolerate other NSAIDs that are not chemically-related. [2,3]
The chart below shows which NSAIDs are chemically related
References: 1 - PMID 20214589, 2 - Anaphylaxis and Hypersensitivity Reactions, 2011, pp 107-125, ISBN 978-1-60327-951-2

Salicylates
Propionic acids

Aspirin
Salsalate
Diflunisal

Ibuprofen (Motrin®, Advil®)
Naproxen (Naprosyn®, Aleve®)
Ketoprofen
Flurbiprofen (Ansaid®)
Fenoprofen (Nalfon®)
Oxaprozin (Daypro®)

Enolic acids
Acetic acids

Meloxicam (Mobic®)
Piroxicam (Feldene®)

Diclofenac (Voltaren®)
Etodolac (Lodine®)
Indomethacin (Indocin®)
Ketorolac (Toradol®)
Sulindac (Clinoril®)
Tolmetin

Fenamic acids
Nonacidic

Meclofenamate
Mefenamic acid (Ponstel®)
---
CARDIOVASCULAR RISK WITH NSAIDs
---
NSAIDs AND GI BLEEDING / ULCERS
---
PERIPROCEDURAL RECOMMENDATIONS
Overview

NSAIDs inhibit platelet function and can therefore prolong bleeding. For patients undergoing procedures, this can be a concern.
Aspirin irreversibly inhibits platelets and all other NSAIDs reversibly inhibit platelets. The degree of platelet inhibition with reversible NSAIDs is variable with some NSAIDs having no obvious effect on platelet function (e.g. celecoxib, nabumetone) and others having significant effects (e.g. naproxen). [9,10]
Since most drugs are cleared after 4 - 5 half-lives, this time frame can theoretically be used to predict the antiplatelet activity of reversible NSAIDs. The half-life for each NSAID is listed with each drug above. The table below gives the half-lives of some commonly used NSAIDs.
Professional guidelines for the management of periprocedural antithrombotics are available at this link - periprocedural antithrombotic recommendations
Drugs are typically cleared after 4 - 5 half-lives
✝The manufacturer states that in trials, celecoxib had no effect on reduction of platelet aggregation or increase in bleeding time

*

The manufacturer states that in trials, nabumetone had little effect on collagen-induced platelet aggregation and no effect on bleeding time
References [Manufacturer PI]

NSAID half-lives
Drug
Half-life
Ibuprofen (Motrin®, Advil®)
2.2 hours
Naproxen (Aleve®, Anaprox®, etc.)
12 - 17 hours
Meloxicam (Mobic®)
15 - 20 hours
Celecoxib (Celebrex®)✝
11 hours
Indomethacin (Indocin®)
4.5 hours
Ketorolac (Toradol®)
5 - 6 hours
Nabumetone (Relafen®)

*

24 hours
---
All NSAIDs

NOTE: Strength of association is not well-defined

Gastrointestinal upset - abdominal pain, heartburn, dyspepsia, nausea, vomiting, constipation, diarrhea
Gastrointestinal ulcers - gastric and duodenal
Gastritis and esophagitis
Gastrointestinal bleeding
Decreased kidney function
Increased bleeding time
Worsening heart failure
Increase in blood pressure
Tinnitus
Dizziness
Itching
Rashes
Elevated liver enzymes
---
NSAID CONTRAINDICATIONS / PRECAUTIONS
---
---
---
1 - Package insert for listed drug
2 - Anaphylaxis and Hypersensitivity Reactions, 2011, pp 107-125, ISBN 978-1-60327-951-2
3 - PubMed ID 20214589
4 - PubMed ID 11496855 - NEJM COX review
5 - PubMed ID 24566065 - COX and CV disease
6 - PubMed ID 23726390 - CNT Collaboration
7 - PubMed ID 22563589 - ACR OA Recs
8 - PubMed ID 16613964 - BMJ review of COX selective NSAIDs
9 - Celebrex PI
10 - Nabumetone PI
11 - PubMed ID 30207919 - Aspirin-Exacerbated Respiratory Disease, NEJM (2018)