CARDIAC ELECTROPHYSIOLOGY
Depolarization

The heart has its own electrical circuit - see cardiac conduction
A heartbeat is produced when the circuit is activated
Heart muscle cells have a negative interior charge when they are at rest
During a heartbeat, a positive wave of electricity (called depolarization) passes through the heart. The wave causes positive ions (Na+ and Ca++) to rush into heart muscle cells. The interior of the muscle cell becomes positively charged, and this causes the muscle to contract.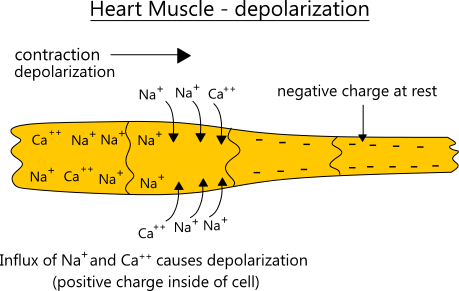 Repolarization

After contraction, the muscle cells must regain their negative charge (called repolarization). One way they accomplish this is by opening potassium channels (K+) so that positively-charged potassium ions will leave the cell.


---
Overview

The QT interval begins at the very start of the QRS complex and ends at the end of the T-wave
The QT interval encompasses ventricular depolarization and repolarization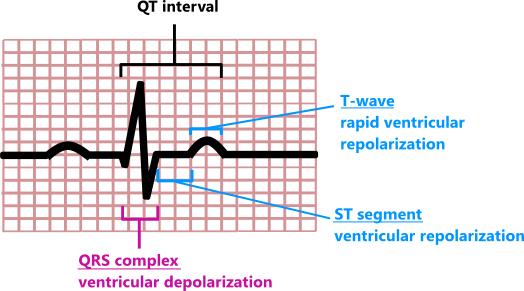 Measuring the QT interval

The length of the QT interval varies depending on the heart rate. The QT interval is shorter at faster heart rates and longer at slower heart rates.
Because of this variability, the QT interval is often "corrected" for the heart rate. The corrected QT interval is often abbreviated as QTc
There is no accepted standard for the correct way to measure the QT interval
One of the most widely used formulas is the Bazett formula
The Bazett formula has been criticized for being inaccurate at faster heart rates



Normal QT interval

In general, a normal QTc interval is considered ≤ 440 ms
A prolonged QTc interval is > 500 ms
---
Overview

In general, a normal QTc interval is considered ≤ 440 ms. A markedly prolonged QTc interval is > 500 ms.
The QT interval becomes prolonged when the ventricles are unable to repolarize normally
QT prolongation may be congenital or acquired
Risk factors for prolonged QT interval

Older age
Female sex
Low left ventricular ejection fraction
Left ventricular hypertrophy
Cardiac ischemia
Slow heart rate
Medications
Energy drinks [3]
Hypokalemia
Hypomagnesemia
Hypocalcemia [1]
Physiology of QT prolongation

The QT interval can become prolonged when the potassium channels that promote repolarization are abnormal or become blocked
Genetic defects in the genes that code for the potassium channels may cause slow repolarization (congenital long-QT syndrome)
Medications may block potassium channels and slow repolarization
When repolarization is slowed, there is an increased risk of an arrhythmia called torsades de pointes which can be deadly (see Torsades de pointes)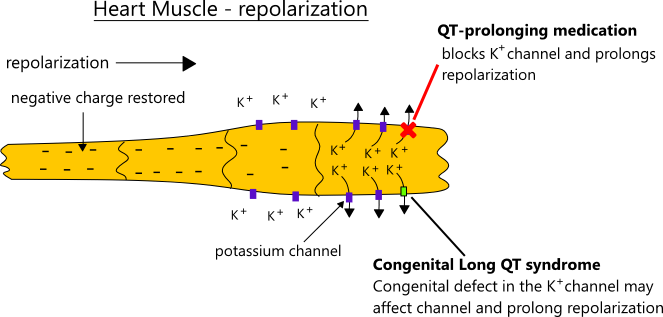 ---
Overview

Torsades de pointes is a heart arrhythmia that can be deadly
Prolonged QT syndrome predisposes a person to torsades de pointes
Torsades de pointes is classified as a polymorphic ventricular tachycardia
It has a distinct appearance on an EKG from which it derives its name (Torsades de pointes is French for "twisting of points")
The exact mechanism of torsades de pointes is not completely understood
It is thought to occur when QT prolongation leaves heart muscle vulnerable to reentrant tachycardias
Reentrant tachycardias occur when waves of depolarization travel in a circular path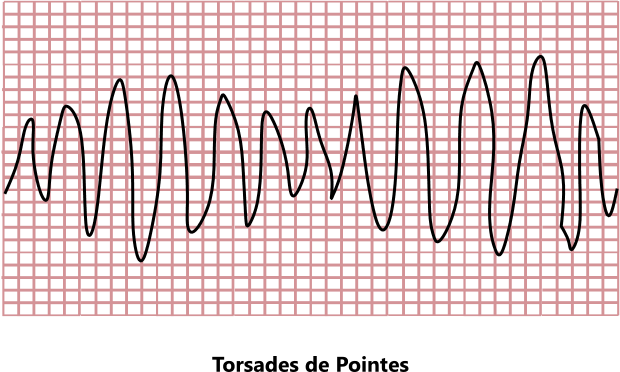 Medications and torsades de pointes

The link between medications that prolong the QT interval and torsades de pointes is imperfect
Some medications which markedly prolong the QT interval (ex. amiodarone) rarely cause torsades de pointes, while other medications which only slightly increase the QT interval (ex. Hismanal®) have been removed from the market because of their association with torsades de pointes.
A number of factors (drug metabolism, concurrent medications, genetics) play a role in determining the risk for torsade de pointes with medications that prolong the QT interval
Patients and physicians must weigh the risk/benefit ratio in deciding whether to use drugs that prolong the QT interval
The website CredibleMeds maintains a list of medications that have been associated with torsades de pointes
---
1 - PMID 12709470 - JAMA review
2 - PMID 14999113 - NEJM review
3 - PMID 31137991 - Impact of High Volume Energy Drink Consumption on Electrocardiographic and Blood Pressure Parameters: A Randomized Trial. J Am Heart Assoc (2019)