CARDIAC ELECTROPHYSIOLOGY
Depolarization

Heart muscle cells are negatively charged at rest. When the heart's electrical system is activated, a positive wave of electricity (depolarization) passes through the heart. The wave opens channels so that positive ions (Na+ and Ca++) rush into muscle cells, causing them to contract (see cardiac conduction).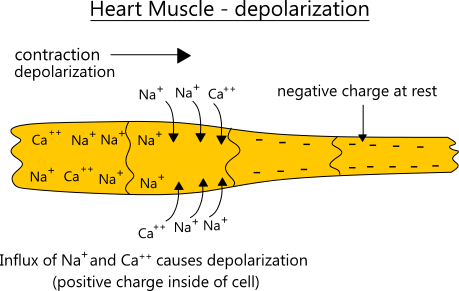 Repolarization

After contraction, the muscle cells must regain their negative charge (repolarization). One way they accomplish this is by opening potassium channels (K+) so that positively-charged potassium ions will leave the cell.


---
Overview

The QT interval, which begins at the start of the QRS complex and ends at the end of the T-wave, encompasses ventricular depolarization and repolarization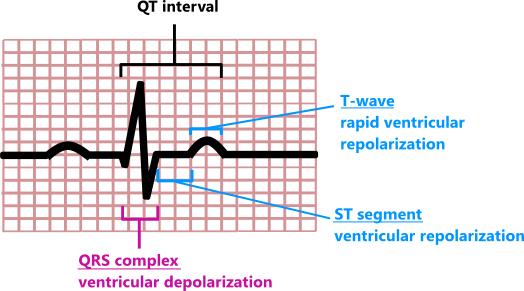 Measuring the QT interval

The length of the QT interval varies depending on the heart rate, with faster rates causing a shorter interval and vice versa. Because of this variability, the QT interval is often "corrected" for the heart rate. The corrected QT interval is abbreviated as QTc.
The Bazett formula (see below) is the most widely used method for calculating the QTc, but it has been criticized for being inaccurate at faster heart rates. Modern ECG machines typically calculate and report the QTc automatically.
A normal QTc is ≤ 400 ms, and a prolonged QTc is > 500 ms



---
Overview

QT prolongation, which can be congenital or acquired, occurs when ventricular repolarization is slowed. A normal QTc is ≤ 440 ms, and a markedly prolonged QTc is > 500 ms.
Risk factors for prolonged QT interval

Older age
Female sex
Low left ventricular ejection fraction
Left ventricular hypertrophy
Cardiac ischemia
Slow heart rate
Medications
Energy drinks [3]
Hypokalemia
Hypomagnesemia
Hypocalcemia [1]
Physiology of QT prolongation

QT interval prolongation occurs when potassium channels facilitating repolarization are blocked. Channels may be blocked in two ways: (1) QT-prolonging drugs bind to channels and block potassium efflux, (2) genetic defects cause abnormal channels that slow potassium movement, as seen in congenital long QT syndrome. When repolarization is prolonged, the risk of arrhythmias is increased, specifically torsades de pointes which can be fatal (see torsades de pointes).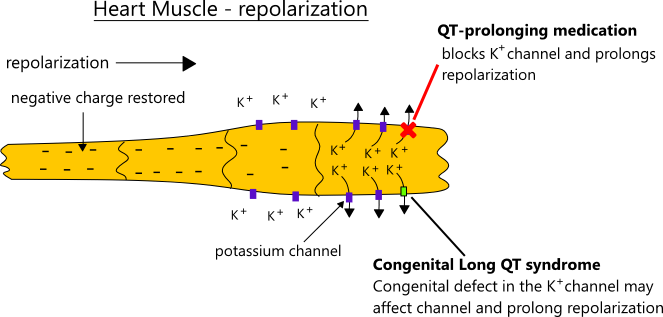 ---
Overview

Torsades de pointes is a heart arrhythmia classified as a polymorphic ventricular tachycardia. Its name is derived from its distinctive appearance on an ECG; torsades de pointes is French for "twisting of points." The exact mechanism of torsades de pointes is not completely understood, but it is thought to occur when QT prolongation leaves heart muscle vulnerable to reentrant tachycardias that produce waves of depolarization traveling in a circular path.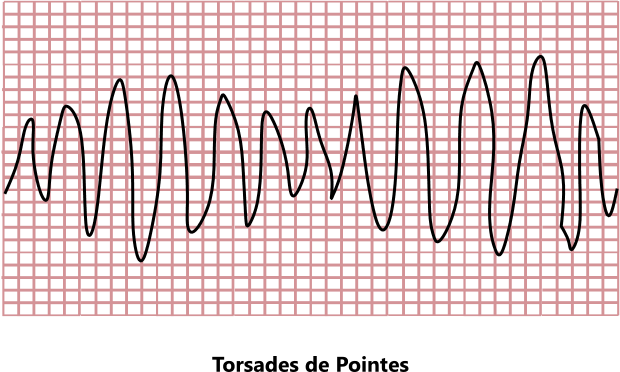 Medications and torsades de pointes

As more studies have evaluated the effects of drugs on the QT interval, QT prolongation warnings have become a common alert from drug interaction checkers. Unfortunately, there is not a lot of definitive guidance on handling these warnings, and it can be difficult to determine which ones are relevant. Two websites that provide information on medication-induced QT prolongation are provided below.

CredibleMeds - database of medications that have been associated with QT prolongation, along with recommendations for their use
MedSafety Scan - app that provides QT prolongation information based on patient history and medication list
---
1 - PMID 12709470 - JAMA review
2 - PMID 14999113 - NEJM review
3 - PMID 31137991 - Impact of High Volume Energy Drink Consumption on Electrocardiographic and Blood Pressure Parameters: A Randomized Trial. J Am Heart Assoc (2019)