ARE PNEUMONIA VACCINES EFFECTIVE?
The CDC recommends that everyone get a pneumonia vaccine at some point, but there is little evidence supporting their efficacy

Straight Healthcare
December 2022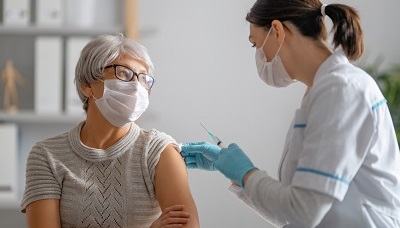 Pfizer and Merck introduced two new pneumococcal vaccines in 2021, bringing the number of adult pneumonia vaccines to four. The Pfizer product is Prevnar 20, and the Merck product is Vaxneuvance. With all these vaccines and a blanket recommendation from the CDC that every adult receives one at some point, one would think they must be highly effective. Like a lot of things in medicine, though, the evidence doesn't always support the guidance. A breakdown of each vaccine is provided below, along with recommended schedules and a review of their efficacy.
Pneumovax (PPSV23) - PPSV23 is a vaccine from Merck available since 1983 that covers 23 serotypes of Streptococcus pneumoniae.
Prevnar 13 (PCV13) - PCV13 is a conjugate vaccine from Pfizer that covers 13 serotypes of Streptococcus pneumoniae. PCV13 has been available since 2010 and is part of the recommended childhood immunization schedule. In adults, the CDC used to recommend that all people 65 years and older routinely receive PCV13 and PPSV23. In 2019, they dropped PCV13 from the recommendation because PCV13 use in children has led to a sharp decline in pneumococcal disease among adults.
Prevnar 20 (PCV20) - PCV20 is a conjugate vaccine from Pfizer approved in 2021 that covers 20 serotypes of Streptococcus pneumoniae
Vaxneuvance (PCV15) - PCV15 is a conjugate vaccine from Merck approved in 2021 that covers 15 serotypes of Streptococcus pneumoniae


CDC recommendations in adults ≥ 65 years

Adults ≥ 65 years who have never received a pneumococcal vaccine

One dose of PCV20 or 1 dose of PCV15 followed by a dose of PPSV23 ≥ 1 year later

Adults with previous PPSV23 only

Adults who have only received PPSV23 may receive a PCV (either PCV20 or PCV15) ≥ 1 year after their last PPSV23 dose. When PCV15 is used in those with history of PPSV23 receipt, it need not be followed by another dose of PPSV23

Adults with previous PCV13

The incremental public health benefits of providing PCV15 or PCV20 to adults who have received PCV13 only or both PCV13 and PPSV23 have not been evaluated. These adults should complete the previously recommended PPSV23 series

Indications for early vaccine - see early indications
So, just how effective are pneumococcal vaccines? There is no real-world data on the two new vaccines (PCV20 and PCV15), as their approvals were based on antibody titers, a surrogate endpoint. The largest randomized controlled trial to look at the efficacy of pneumococcal vaccines was performed in the Netherlands, where 84,496 adults aged 65 years or older (mean age 73 years) were randomized to PCV13 or placebo. After an average follow-up of 3.97 years, 0.32% of patients who received PCV13 had confirmed pneumococcal community-acquired pneumonia (CAP) compared to 0.41% in the placebo group (p=0.05). The PCV13 group had a lower incidence of CAP caused by pneumococcal strains covered in the vaccine (0.15% vs 0.25%, p=0.003), but there was no significant difference in overall cases of CAP (1.8% vs 1.9%, p=0.32) or all-cause mortality (7.1% vs 7.1%). [
PubMed abstract
]
As for PPSV23, no large randomized trials involving the general public have been published. Small studies that have examined its effects in high-risk patients have been mostly disappointing -
PMID 28122642
,
PMID 9482293
,
PMID 20211953
,
PMID 10902624
.
Vaccine approvals translate to big bucks for pharmaceutical companies, especially if they can become part of the CDC's routine vaccine recommendations. This means millions of people will receive the vaccine each year without question when their provider recommends it; not to mention, many providers are "graded" by Medicare and other healthcare entities on the vaccination status of their patients. The CDC's Advisory Committee on Immunization Practices has already recommended that PCV20 replace PPSV23, and Pfizer is running ads suggesting people get PCV20 even if they've already had another pneumococcal vaccine.
There is no question that vaccines save lives, but in some cases, the overall benefit is debatable, and it seems fair to question recommendations that call for the routine vaccination of large populations. Unless PCV20 and PCV15 prove to be far superior to PCV13, we'll have two more vaccines that lower the risk of pneumococcal CAP by around 0.10% while having no effect on mortality.